WBabylon Translator Application
WBabylon is a bidirectional translator / dictionary which translates between Japanese and English running on Windows. After selecting a word on the screen, a pop-up window will appear to show you translations. The translation is bi-directional, English to Japanese and Japanese to English.
It is a free / open-source application.
How to use
Wbabylon translates a word stored in the system clipboard. So after selecting one, pushing Control-C and then pushing one of hot keys. The hot keys are "F8" for Japanese words, "F9" for English words.
Since wbabylon is translatior between Japanese and English with original dictionaries, East Asian language pack must be installed before using. Please see
"displaying Japanese characters"
for details.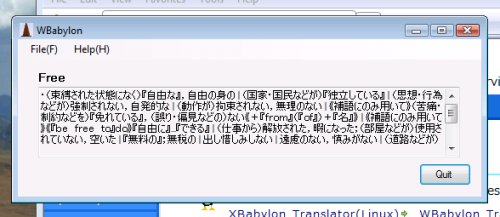 Sequence of procedures
Selection of a word is done by mouse drugging or double-clicking the left button of a mouse.
During selection, pushing Control-C (Ctrl-C) of a keyboard or selecting "copy" on the right button menu of a mouse.
Pushing a hot-key, which is "F8" for Japanese words, "F9" for English words. The same is done by double clicking one of two icons exist on the desktop.
The translation window is pop-up as an active window. It will be disappeared automatically after a few seconds when losing the focus. If you want a quick closing it, push "Quit" button or double clicking the window.
Hot-keys
Hot-keys can be set to your favorite buttons. Setting procedure is as follows.
Selecting wbabylon prpperty menu on "Program Menu": i.e. "Start" -> "All Programs" -> "wbabylon" -> left button click -> "wbabylon" -> right button menu -> property.
Selecting the column "Shortcut key", and pushing any key which you like to set.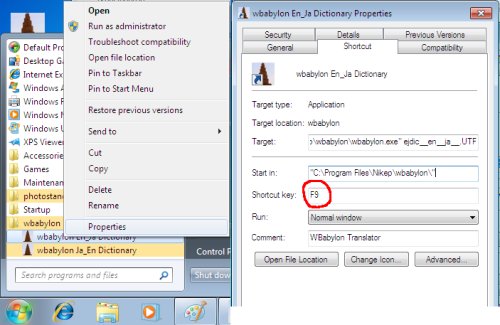 Supported platform
It will work on any versions of Windows newer than Windows XP, i.e. Windows 7, Windows Vista, Windows Server 2008.
In addition it also reqires VC++ runtime library Microsoft.VC90.CRT, and executable environment of .NET framework 3.5. (Please refer Installation for details)
Linux(UNIX) version is here, xbabylon.
Download
Installation
Downloading and installing VC++ runtime library from a Microsoft site, if you have not installed.(※1)


(Executing the file, vcredist_x86.exe)

[Not necessary as usual] Downloading and installing the runtime environment.NET framework 3.5 or newer.(※1)


(Executing the file, dotNetFx35setup.exe)

Double clicking the file, wbabylon.msi to run.
Restarting the computor.(※2)
(※1 Since it is necessary only once on the system, it is OK to install except install the runtime. In the case if wbabylon doesn't work with error like "side-by-side error", it must be installed.)
(※2 It works without restarting basically, but hot-keys would not work in some case (bug?). If you change hot-keys, it takes effect automatically.)
Uninstallation
Uninstallation can be done from " ".
Build from the source
wbabylon can be build with Microsoft Visual C++ 2008 from the zip ball.
And the installer will be made from wbabylon.en.wxs with WiX.
※ You may know well about Visual Studio, I think. If you want to have further information, please don't hesitate to ask me by e-mails.
Dictionaries
ejdict
Ejdict must be a public domain English-Japanese dictionary, but its copyright is uncertain. Many years ago it was upload on Junet news site. Becase it is excellent to have a large number of words and that there are no similar products free to use, it is widely used in Japan.
edict
Edict is a free Japanese-English dictionary.
monash.edu.au
may be the primary site for it, and copyright is very clear. The file contained in the installer is a file of Linux distribution. There are a few similar dictionaries on this area such as "gene95", but edict is good to have many words.
Other Dictionaries, and Languages.
By the way, the format of dictionaries is a sorted tab-separated CSV. So any dictionary file should be used with wbabylon after reformating.
I will appreciate if you provide dictionary files of ohter languages to use. I will transform a file for you, if you send one to me, if necessary.
Displaying Japanese Characters
Methods to display Japanese characters are different according to Windows versions.
[Windows 7 / Windows Vista]
Versions newer than Windows Vista, nothing special is necessary basically and wbabylon must work properly. If you have troubles, please follow the case of Windows XP.
[Windows XP]
There are two alternative ways to activate the feature.
The first one is only accessing Japanese site written by Japanese such as wbabylon-ja. When a page is shown, a dialog will appear, which ask you to install language pack. Answer "Yes", and installation procedure will run. After finishing it, Japanese characters will be displayed. After all, wbabylon can display Japanese as well.
The second one is manual installation. Start "Regional and Language Options" from "Control Panel" and then select "Language" tab and check "install files for East Asian languages" and press OK. And installation precedure will start.
See also the wikipedia page.
History
Version 1.1.0: Add feature to Japanese English translation. Supporting English culture / lang.
Version 1.0.0: Distributed version.
Version 0.9.2: Making index of the dictionary, because of slow reading file on Windows.
Version 0.9.1: Add feature for main window to disappear automatically.
Version 0.9.0: Initial version.
Search in the site
Internet Search
Do you have plans to develop something?
Nikep Software Lab. will contract your system constructions or application developments.
We can develop the followings;
Intra-network of small/middle size company,
Bi-lingual web site for Japanese and English,
New web services,
Systems for cellular phones in Japan,
Applications of various platforms, native or cross-platforms
We are also ready to offer customized web applications providing on the site: for example special codec parameters, download servers for your costomer, reserved storage space, or etc.
If you feel interesting, please take a look at
here
for details.

Please contact me, if you have comments or questions.
2004-2009 Shigeki Kaneko, all right reserved.